Endofeminina Presents Scientific Advances for Women's Health
Posted 6/15/2019
Now in its 16th year, the event welcomes 160 participants for symposiums in Porto Alegre
In her opening lecture at the 16th annual Women's Endocrinology Meeting (Endofeminina), held Friday morning at the Plaza São Rafael in Porto Alegre, Brazil, the coordinator of INCT Hormona, Professor Poli Mara Spritzer (pictured above), highlighted the importance of recommending pre-gestational assessment of fertility for patients with polycystic ovary syndrome and discussed the main lines of treatment for this condition in current practice.
Professor Spritzer stressed that the 2018 "International evidence-based guideline for the assessment and management of polycystic ovary syndrome" remains the most complete and current guidance document for clinical interventions in this condition. She also noted that, before starting pharmacotherapy, patients must be assessed for modifiable risk factors that may affect fertility must.
"Blood sugar, blood pressure, weight, smoking and alcohol intake, eating habits and physical activity, in addition to conditions such as mental, emotional, and sexual health, should all be evaluated before prescribing therapies to induce ovulation or recommending assisted reproductive technologies," she stated.
The coordinator of INCT Hormona and driving force behind Endofeminina thanked the participants, noting that many of the providers and investigators had already attended past editions, which demonstrates how widely the scientific community recognizes the relevance of the event. This edition was attended by approximately 160 participants (pictured below).
LECTURES
The morning lectures also included "Premenstrual syndrome: diagnosis and clinical management", by Maria Celeste Osorio Wender; "Chronic pelvic pain", by João Sabino Cunha Filho; and "Subclinical hypothyroidism in pregnancy: diagnosis and clinical management", by Ana Luiza Maia.
In addition, INCT Hormona doctoral fellow Lucas Bandeira Marchesan presented on "Dyslipidemia and the metabolic syndrome", while a guest from the state of Pernambuco, Mônica de Oliveira, presented her work on "Hirsutism and alopecia". Activities will continue this Saturday.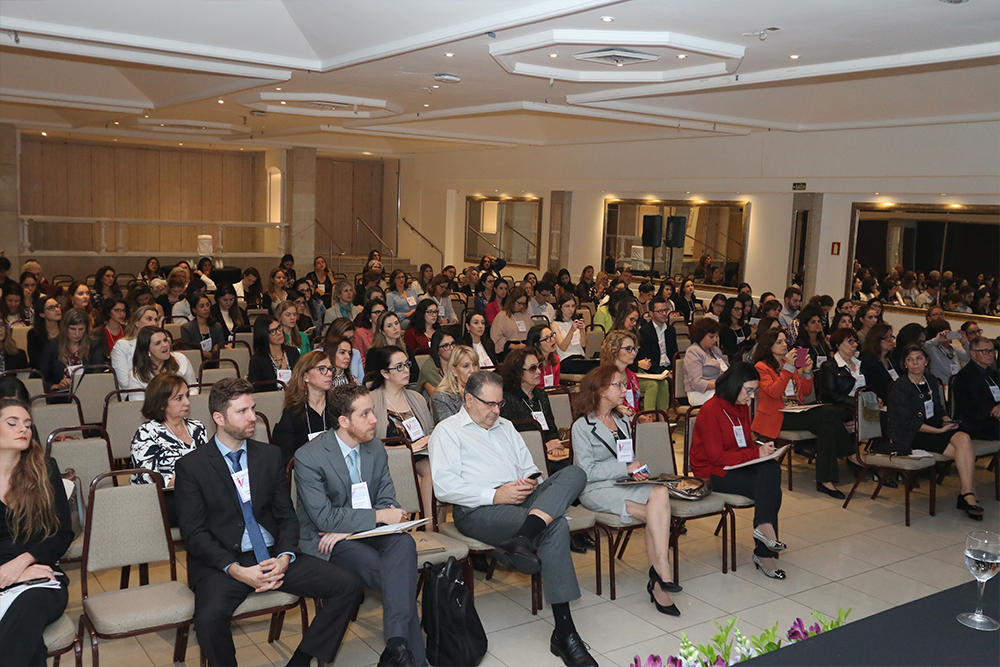 Copy and editing: Luiz Sérgio Dibe
Photos: Olga Ferreira